Fire design of wooden structures
Simplified design methods according to EN 1995-1-2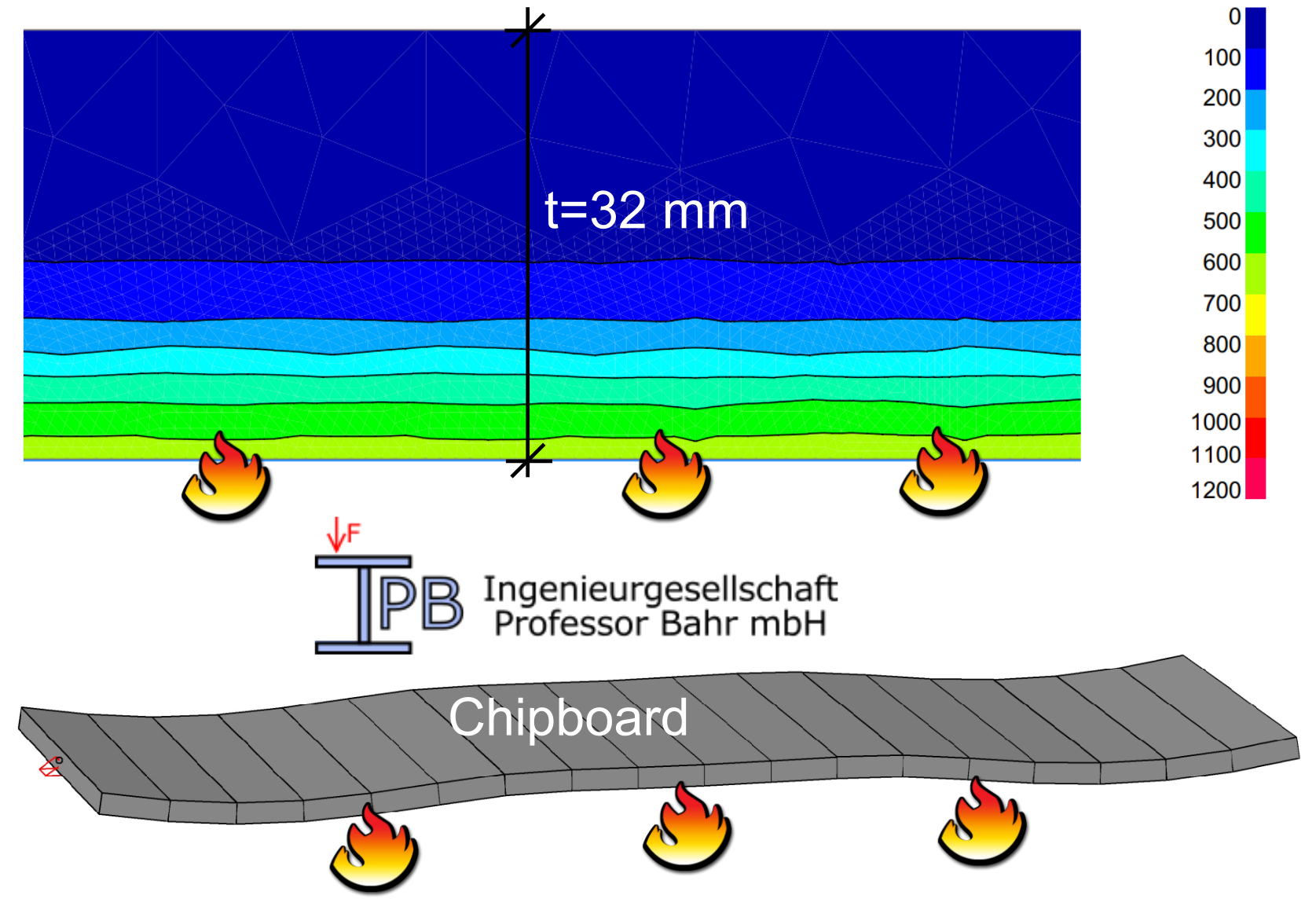 Wood behaves good-natured in case of fire. This is due to the thermally insulating layer of charcoal, which conducts the heat poorly and protects the core of the cross section. The Eurocode EN 1995-1-2 provides simplified calculation methods for the computational verification of fire-stressed timber structures. These are based on a defined burning rate, which depends on the type of wood and the type of fire exposure (one- or multi-sided fire exposure). As a rule, fire resistance classes R30 or R60 can easily be achieved by sufficient dimensioning of the wood cross section.
In Germany, the respective state building regulations regulate the structural fire protection of wooden buildings. The state building regulations are based on the so-called "Guideline on Fire Protection Requirements for Highly Fire-Retardant Timber Structures ". Thereafter, stricter fire regulations apply to the load-bearing components in taller wooden buildings. If the fire resistance class R60 is required, supports and girders must be provided with all-sided fire protection clothing.
Advantages of fire design of wooden structures
With the help of fire design, we can efficiently demonstrate the structural fire protection of wooden structures for your projects. Under certain circumstances, it is even possible to dispense with the all-sided fire protection clothing for load-bearing members with the requirement R60.
Furthermore, we can always take favorable influences into account, such as partial fire exposure and the very low thermal conductivity of the wood. In the picture above, the heating of a chipboard panel due to a one-sided exposure from below after 30 minutes can be seen. It is clear that due to the low thermal conductivity this results in a very inhomogeneous temperature field. Thus, the side facing away from the fire of the plate still has large load-bearing reserves. In addition, the picture shows the 10-fold increased deformation of the chipboard in case of fire.
A fire design is useful in new buildings, if necessary to completely dispense with elaborate structural protection measures for timber components or to optimize the arrangement of the fire protection material. For refurbishments in old buildings and existing buildings existing components that do not meet the current standards with regard to fire protection, can be checked for adequate load-bearing capacity in case of fire and optimized.
Non-binding initial consultation
It is best to call us directly and describe your specific task. Or send us an email with some key data. On this basis, we can discuss the framework conditions resulting in an attractive offer.